Do you feel frustrated about your weight?
Maybe you're a little too familiar with the following...
Wished that you could eat ice cream with your child without feeling guilty because of your weight.
Put on your uncomfortably tight blouse and the work pants that pinch at your belly and wished you didn't have to try so hard to find comfortable and cute clothes.
Felt sad and upset about all the side comments that your family makes, hearing them say things like, "she has such a beautiful face…if she could just lose the weight".
Believe me, I know what you feel like because I have BEEN there.  Until you learn to think differently, everything in your life will stay the same.
If you are ready to discover how your mind is getting in the way of your weight loss then you need to take Empower Your Weight Loss Mind Assessment.
In under an hour I will show help you understand why you "yo-yo" back after losing weight.  Why you can't seem to commit to your weight loss journey.  And how struggling to put yourself first is impacting your weight loss and the happiness in your life.
How it works: It's a 10 minute assessment + a 45 minute one on one debrief with me.  At the end you will know what it takes to shift into a weight loss mentality so that you can finally start losing the weight!
Allow me to help you create the body you truly love.
Click below to purchase the Empower Your Weight Loss Mind Assessment for only $99!  It's time to put yourself first.
Do you find that your life revolves around your weight?
My life did and it wasn't fun. I was sad, I would get angry and I desperately wanted to feel better but I didn't know how.
Eventually, I learned what I had to do mentally and physically in order to get myself to a place of self-love and acceptance.
If you are ready to start living the life you love and try something that actually works, keep reading..
I created a package for moms just like you…just like me! Moms who are ready to not only lose the pounds but actually start truly loving their body and their life.   My program will of course, get you to lose weight but even more importantly, change the way you see your body and your life.  And isn't that the ultimate goal?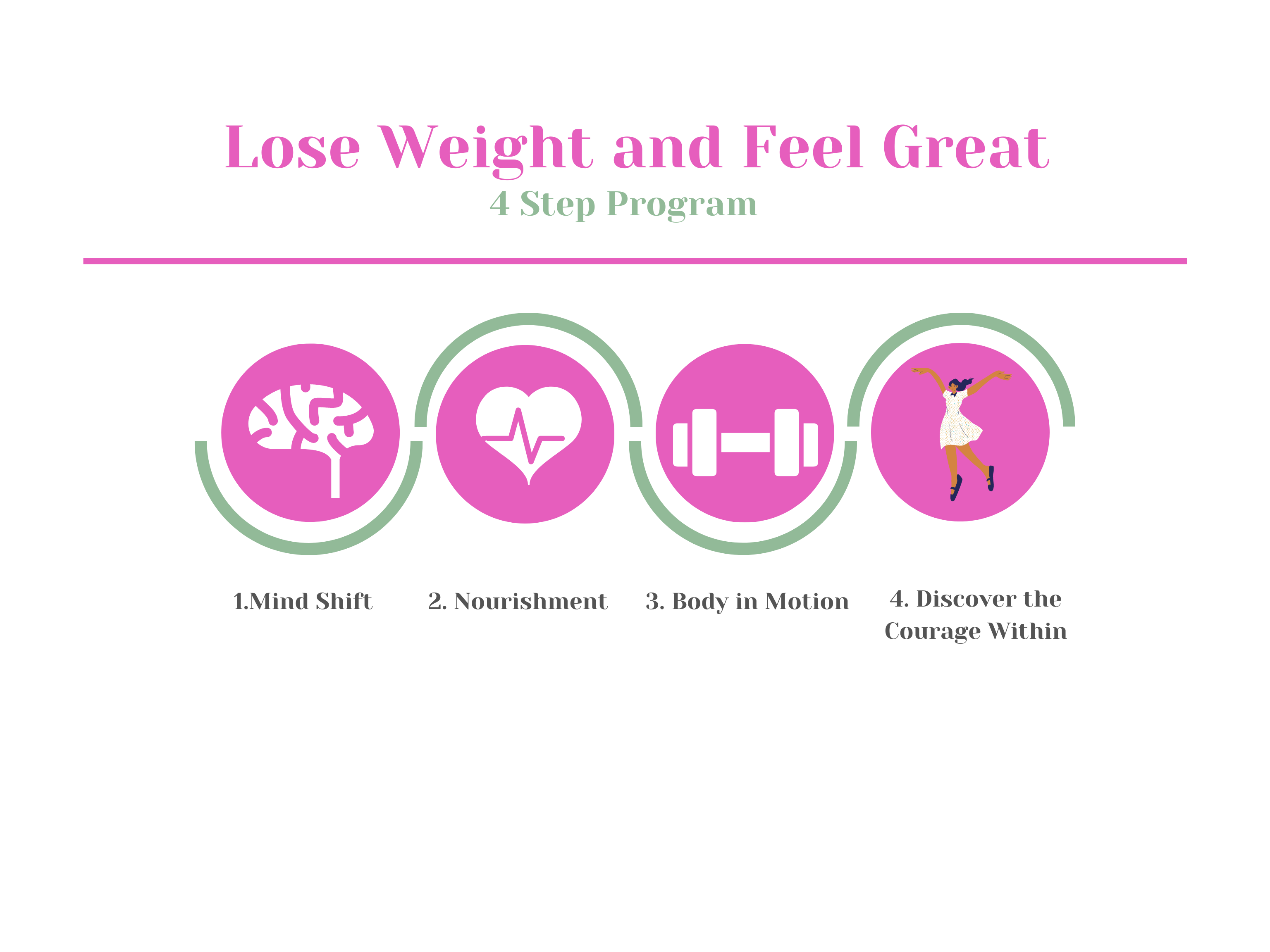 We will work on uncovering your mental blocks and past patterns of being that have made losing weight such a challenge.  This is a fancy way of saying that something in your brain is telling you to always finish your child's leftovers or to eat the extra cookies even though part of you knows that you would rather have the ability to say no.  Step one is crucial as this is where we will begin to rewire the pesky thoughts of self-doubt and get to the nitty gritty of what has been preventing you from reaching your weight loss goal.   We will do this first so you begin honoring your weight loss goal and remove the guilt associated with putting yourself first.  
We will review your eating habits and see where your biggest areas of growth are.  Everyone has a delicious but naughty food group that tempts them the most, and we will not only narrow in on yours but we will also learn to tame it.  We will discuss the type of food that will help you lose weight the fastest and help you figure out which meals are the healthiest, easiest and tastiest for you.  Using specific coaching techniques, we will work on different methods that will help you strengthen your food boundaries hence, developing a better relationship with food.  Say goodbye to stale half chewed PB&J sandwiches and say hello to in control mommy!
Moving your body not only helps release stress (how important is this for mommies!) but it also helps shrink the waist and any other area you would like to see a little less of.  During step 3 we will discover the movements your body thrives on and help you to love it so that you not only do what works for your body but also do what is the most fun for you.  We will work on developing your weekly workout threshold and build a habit of purposeful movement so that your workout time is guided with intention (no more grinding your body to exhaustion at the gym). 
4. Discover the Courage Within
It can be incredibly scary to go out on a new journey alone.  Step four is intended to help you let go of the fear and make amends with any feelings of disappointment that you have felt in the past regarding your inability in continuing to make progress and keep the weight off .   We will figure out where you pull your strength from and build the confidence within you so that you hold yourself accountable and continue your success.  After our time together ends, you will be prepared to take on your weight loss journey like the powerful women that you are! 
Are you ready to get started?
If you have read this far, it seems to me that you may be ready to lose weight and feel great!  If you agree, and you're ready to stop struggling alone and start getting expert help, please complete the form below. I'll personally review your submission and reply within 24 hours with your next steps. If we decide that we would make a great team, I'll help you get into the weight loss mindset so you can start losing the weight and so you can begin to see the beauty within you and outside of you.